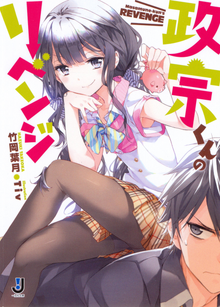 Masamune-kun no Revenge (政宗くんのリベンジ Masamune-kun no Ribenji) is the light novel adaptation of Masamune-kun no Revenge. It was released a year after the manga's release, December 20, 2013.
This alternative version of the manga only has one volume, including most of the seen characters in the manga adapted version. The genres for the light novel are: Comedy, Romance, School, Harem.
Ad blocker interference detected!
Wikia is a free-to-use site that makes money from advertising. We have a modified experience for viewers using ad blockers

Wikia is not accessible if you've made further modifications. Remove the custom ad blocker rule(s) and the page will load as expected.